Christmas is one of the most magical times of the year. We love it here at REOLife. And nothing makes a Christmas more magical than a baby's first Christmas. I can not wait to see baby Pop's face on the big day!
I start thinking of Christmas gift ideas in the Summer. I literally spend half of the year thinking about Christmas and gifts. I love the whole process of gift giving soooo much.
I've gathered present ideas from around the web and made this blog post for all who are looking for some prezzie inspiration.
So, here it is. 22 gift ideas for 0-1 year olds by REOLife.
Please note: This post contains some Affiliate links which will help to support the blog. Thank you for your support.
---
Sorted by lowest – highest price
These foil heat blankets are awesome for sensory play. Pop loved it and would squeal with excitement when he heard me bringing it out. Baby will love kicking around, listening to the scrunching and ruffling whilst watching the light bounce around and for a few pounds who can grumble?
WARNING: ALWAYS SUPERVISE WHILST IN USE AND NEVER LEAVE BABY UNATTENDED. THIS IS NOT DESIGNED TO BE A TOY.
This soft book from IKEA is lovely! The different motifs, sounds and materials will and stimulate baby's senses and help develop motor skills.
Newborns will love hearing the jingles as they move and kick their arms and leg. A great way to teach baby about cause and effect.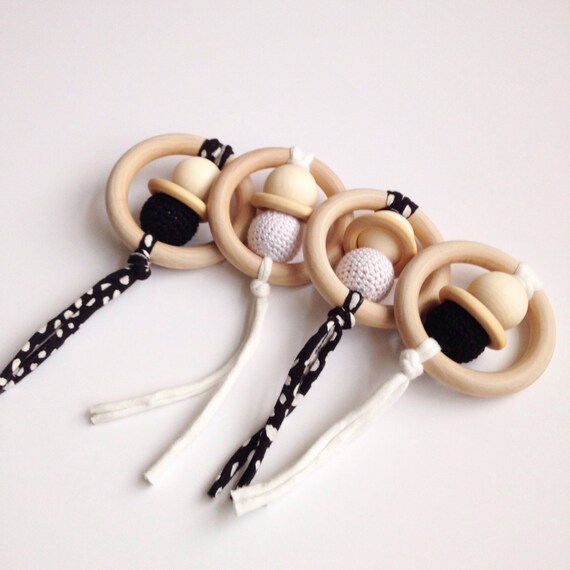 This is the perfect stocking filler for small babies. It keeps them entertained and stimulates them to touch, look and explore the different textures and shapes.
The Wimmer-Ferguson See and Say Book is captures every baby's attention with its high contrast images.
This is the perfect gift for baby's to play with during feeding time.  It is safe to chew on and has different textures touch, look at and explore.
This slideshow requires JavaScript.
Cloud taggie comfotor – £7.50 by Bea'Spoke Designs
This stunning, handmade comforter really is one of a kind. There are other colours available and different designs can be custom ordered from Bea'Spoke.
Roll this wooden toy across the floor and watch it clap as it goes. Babies love to clap so they'll love to clap along with this toy.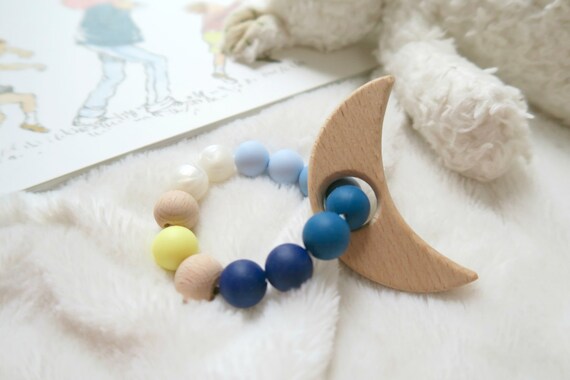 The "Goodnight Moon" teething accessory sweetly resembles a quiet night sky (even though we all know those nights aren't quiet). It is a unique, fun toy for baby to soothe those tender gums or new teeth.
These felted rings are an ideal texture to baby's toy collection.
Babies love to explore how their actions engage with the world around them, and exploring how to make things move. This fun motion wobbler is the perfect toy for babies to touch, push, wobble and handle.
Pop has a wonderful spinning top which he will play with for a lengthy amount of time.  This delightful metal spinning top will bring great fun and entertainment into any playroom.
A beautiful brightly coloured toy made from wooden balls held together with strong elasticated string.  Babies love to touch, feel, grab and shake it about.
This star-shaped alder wood rattle has a rainbow spectrum of coloured discs which will rattle around as baby shakes it.
The Skwish Classic fascinates babies with its twist web of rods, strings and beads. Babies squeeze and stretch Skwish and watch in amazement as it slowly pops back up to its original shape.
Babies love playing with keys, and here is a set just for them. Four wooden keys on a durable cord.
Soft and double-sided, the Tiny Love Flip Cube is full of surprises. With seven different activities to explore, it is ideal for stimulating your baby's senses.
This cute dip dyed rattle will last them well into their toddler years as a push car too.
Pop LOVES the "That's not my…." series so much so this Snowman gift set has made the top of his Christmas list this year. This attractive gift pack includes the much-loved, touchy-feely book That's not my snowman with an adorable snowman soft toy.
This uniquely shaped baby toy allows for continuous rolling movement .A light push will get the Wobbal rolling in a gentle cascading fashion. Includes chime bell for auditory cause and effect discovery.
This flexible wooden toy is a fab clutching toy for a new baby and provides countless opportunities for concentrated fiddling and shaking.
This activity gives the child practice with hand-eye co-ordination by placing the ball through the top, which will then be delivered back to the bottom ready to repeat again and again.
A set of 14 chunky sound blocks with rattling beads inside which can be store neatly into the wooden tray when not in use.
This treasure basket collection is the perfect to starter set. There are 15 sensory-rich natural and wooden items, individually selected for their sensory appeal.
We love this play gym from IKEA. Reaching out for toys stimulates the baby's development of eye-hand coordination. You can also modify this gym and add your own toys. See Kaleyann for more modding inspiration.
This 12 piece set of matching patches can be used for years to come. Each patch has a black and white pattern on one side, a colour picture on the other side and a different texture material on the inside (small and large beads, soft sponge, textured netting, a smooth rigid material and a noisy crinkling paper)
Babies adore music so this 15 piece percussion set is perfect to start making music with them.
---
Check out our Pinterest board for more toy inspiration.
I add new ideas regularly.
---
See also:
43 Educational Gift Ideas for 1 – 3 year olds
28 Educational Gift Ideas for 3 – 5 year olds
12 Crafts of Christmas Challenge
---
---